Research & Development
Over the years, we at QCS have encountered many situations where the best solution to a given problem was yet to be developed. In most cases, we adapt, or create a solution to fit, but usually there's not a large enough market to enter into full blown research and development of said solution. However, QCS has an inclination towards research and development of products, processes and/or equipment which we deem industrially useful and potentially profitable.
With this R&D mindset, QCS has endeavored to develop a better, more cost effective, water recycling process for flowback water used in hydraulic fracturing. Teaming with industry professionals from the wastewater and chemical engineering sectors, QCS has both facilitated test pilot projects and also conducted test pilots on its own dime, in the nearby Eagle Ford shale play of South Texas.
QCS has also provided R&D support for water recycling in aquaculture applications. Additionally, the QCS staff has initiated numerous R&D projects for various equipment applications.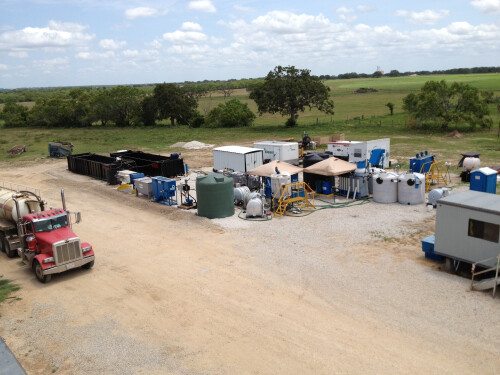 Extensive Frac Water Recycling Pilot Test Site in the Eagle Ford in South Texas